Description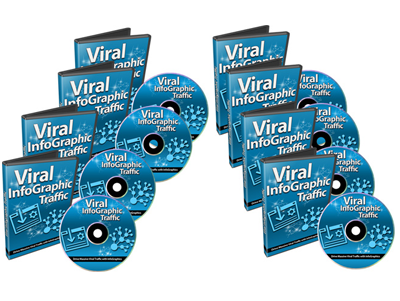 This 9-part video course is designed to show you how you can get eyeballs and visitors back to your site by using tried and tested techniques on how to create a successful infographic plus tools you can use to help speed up the process!
Here's a breakdown of this 9 part video series in more detail.
Video #1 – Overview
Before we jump in and to creating successful InfoGraphics, first I want to give you an overview of what you will find in this video course. This way, you know exactly what is in store for you, which will get you geared and prepared to start creating your very own InfoGraphics.
Video #2 – Anatomy of Successful InfoGraphics
In this particular video, you will learn first and foremost what an infographic is, what it's used for, and the important key elements that are must-have's for an engaging and value adding InfoGraphic.
Video #3 –  Different Styles of InfoGraphics
There are many different styles of InfoGraphics and you need to be aware of these to know exactly how you can apply them based on your market, the type of information you have, and the concept you want to achieve. In this video, you will learn about 8 different InfoGraphic styles that you can mix and match depending on your target.
Video #4 – Strategies to Build Curiosity: Making Infographics "Thought-Provoking"
Now that you know what style you'll use and what type of InfoGraphic you'll apply to relate to your target audience, it's time to inject strategies to help pique your audience's interest. In this particular video, you will learn 13 powerful techniques to make your InfoGraphics thought invoking.
Video #5 – Strategies to Invoke "Call to Action"
Now that you've gotten your viewer's interest, the next step is to captivate them and so you can get those clicks from them.  In this particular video, you will learn tactics on how to get your audience to take action.
Video #6 – Top Tested Free and Paid Tools to Create Professional InfoGraphics
There are many different tools and software out there that allow InfoGraphic creation so we have tried and tested top tools that cater to not just one niche but several different markets. In this video, we will demonstrate 5 neat InfoGraphic tools that are available for you to use.
Video #7 – How to Create InfoGraphics with Piktochart
Piktochart is one of the leading InfoGraphic tools out in the market today. In this video, I will show you how to get started in creating your very own professional looking InfoGraphics with quick and easy-to-follow steps and demo.
Video #8 – Promote Your Infographics on Social Media Sites
Congratulations! You now know how to create an InfoGraphic and use nifty tools to speed up the process. Now, let's get started on getting significantly more eyeballs to your InfoGraphic. In this particular video, you will learn how to promote your InfoGraphics on social media sites so that you can widen your reach and increase your exposure.
Video #9 – Bonus Ninja Trick – Get a Flood of Visitors to Your InfoGraphic
Want to learn more tricks on how to boost your visibility and get tons of visitors to your InfoGraphics? By watching this video, you will be privy to secret weapons on how to make your InfoGraphics go viral so you can really get results that you want!